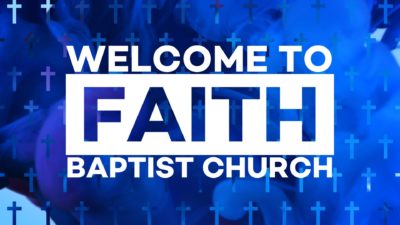 Saturday, October 10 at 2 PM
The Gospel is Good News for Everyone!
Service Times
Join us for Sunday School at 9 AM
Worship Service at 10 AM
Sunday evening worship at 6 PM
You can still watch the weekly service live on our Facebook site: Faith Baptist Church Hermantown at 10 AM.
Join Wednesday Night Bible Study in Revelation at 7 PM -here at church or on Zoom  
No Monday Night Bible Study
Wednesday Night Praise & Prayer
and Youth Group Ministries at 6:30 PM
Conqueror's Club starts Wed., Sept. 23
at 6:30 PM
Sunday Worship Services 
Sunday School at 9 AM
Worship at 10 AM
Evening Worship at 6 PM
Our Youth Group is led by Wyatt Helgeson.
They meet Sunday morning at 9 AM and Wednesdays at 6:30 PM
Starting Wednesday, September 23 at 6:30 PM
All kids ages 3 years to 6th grade are invited to this fun time of Bible memorization, devotions, games, and prizes.